I love to cook for our LifeGroup at Life.church. This is a recipe that I made recently that the guys loved and the ladies wanted. So I wrote it out. I even gathered pictures of the products I used because my friends are self-described "cooking challenged". LOL
Martha's Loaded Baked Potato Soup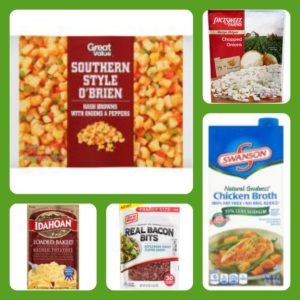 2 tbsp butter
½ cup chopped onion
1 box (32 oz) regular chicken stock
1 bag (28 oz) frozen O'Brien Hash Browns
2 cups sour cream
2 cups shredded cheddar cheese
1 tsp salt
¼ tsp pepper
4-5 dashes of Tabasco (left out for Stephanie)
1 cup crumbled bacon
1 4 oz package of instant mashed potatoes to thicken
Heat crockpot on high. Melt butter and add onions. Cook til translucent. Add entire box of Chicken stock and bag of hash browns. Put lid on and cook on high for 1 hour.
Add rest of ingredients except instant mashed potatoes. Let heat on high and stir thoroughly for at least 30 min. If not eating right away, turn down to warm.
Just before serving add instant mashed potatoes. Add ½ cup water if need be to thin just a bit.