July 4th Cinnamon Rolls
Do you have a family holiday treat that everyone looks forward to, even if they are grown and married? Who would ever dream that the 4th of July could hold as much family tradition meaning as Christmas or Thanksgiving?! It didn't start out that way. Actually, 4th of July used to go right by us and we hardly even celebrated. We lived in a humble home on the west side of the tracks in downtown Edmond. The children were very little guys. It was a holiday from work, so of course we tried to sleep in. Then one 4th of July morning, we woke to find cars parked up and down our street and people walking to downtown! It was the first time we knew about the annual LibertyFest Parade in Edmond!
As history tells, we moved from our humble home on the west side of the tracks to a fabulous historical home on the east side of downtown. We lived right on the LibertyFest Parade route! For our family of 4, Mom and Dad and 2 little boys, the 4th of July grew into a great big party starting with breakfast at the Bed & Breakfast, a usually hot colorful parade, and followed with a huge potluck dinner for family and friends. There we were to celebrate the 4th of July in hometown style for the next 27 Independence Days!
Let me share our tradition with you! We start the night before, making dough for Aunt Judy's Cinnamon Rolls. Even the grandchildren get in on the action now. Miss Allie (15) made the dough for us last year! Son, Stephen, likes to roll them out precisely adding just right amount of butter, cinnamon sugar and pecans. The rolls bake in the morning along with Gail's Chili Relleno Casserole. Grandma Edith looks forward to the fresh tomato salsa I make to go with the casserole.
Also the night before, we start roasting the Beer Jalapeno Brisket and Martha's Rub Ribs. These would be the stars of the potluck dinner following the parade. Pastor Joe would go on and on about the brisket, made better every year he said.
Yes, the holiday is tasty with family recipes and filled with stories. The morning that it started raining at 5 am after I had been up 2 hours baking for the party. It turned cold and we were afraid they would cancel the parade! We actually still had the parade but had to wear jackets!
One year the holiday fell on Sunday so the parade was held on Monday, the 5th. Uncle Mark didn't know that and early on Sunday morning he arrived with cousins Jason and Jesse for cinnamon rolls. Yes, he had to come back.
There was Bob, the famous photographer from New York City, who came just to be with our family for the 4th of July. He invited friends to join us for lunch. Several of us were sitting with them at the dining table when his guest mentioned that he had been sailing. Jack asked if he had been sailing at Lake Hefner. Bob's guest answered, "No, the America's Cup." The table became very quiet. No one could top that!
We had our annual 4th of July guests, Virginia and Albert, who stayed in the Crown Jewel Suite to watch their children in the parade. Gary and I loved to carry their breakfast tray and candelabra out the back door of the Inn and over to their separate Villa. There was always a crowd lined up across the street waiting for the parade. We had an audience!
Our two little boys are grown now with wives and children of their own. Many of the family members that used to join us are gone. The Inn is gone. Yet the family love and tradition is as strong as ever. You see, it wasn't the place that made the 4th of July great, it was the company, the love, and the tradition.
Time moves on. We have moved to the country to host our guests. The 4th of July holds even more importance as we are grateful for the freedoms and opportunities afforded us as Americans. Our traditions may change yet making memories will carry on.
Judy's Cinnamon Rolls
1 box Duncan Hines Butter Recipe Cake Mix
2 1/4 cups warm milk
2 pkgs. yeast
pinch of salt
about 5 cups flour
Dissolve yeast in warm milk. Let set, should begin
bubbling if yeast is alive. After 5 minutes or so, add
yeast to cake mix and salt. With dough hook in electric
mixer, slowly add flour to make a stiff dough. Turn out
onto floured counter and knead for 5-10 minutes. Place
in large greased bowl, turning once to grease all of the
dough, and cover with towel. Set in draft-free space
and let rise 1 hour until doubled in size. Turn out onto
floured counter again and roll into rectangle 1/2 inch
thick. Spread with 1/2 cup melted butter, then sprinkle
on cinnamon sugar, brown sugar, raisins, and nuts (all
to your own tastes). Roll wide side towards you and
slice into 2 inch thick slices. Place slices in greased 9 x
13 inch pan. Let rise till doubled and bake at 350º for
20 minutes. Brush with melted apple jelly immediately
after removing from oven. Make a powdered sugar
glaze to drizzle over rolls just before serving.
Glaze…
To powdered sugar gradually add milk until you get
the desired consistency (not too thick, not too thin).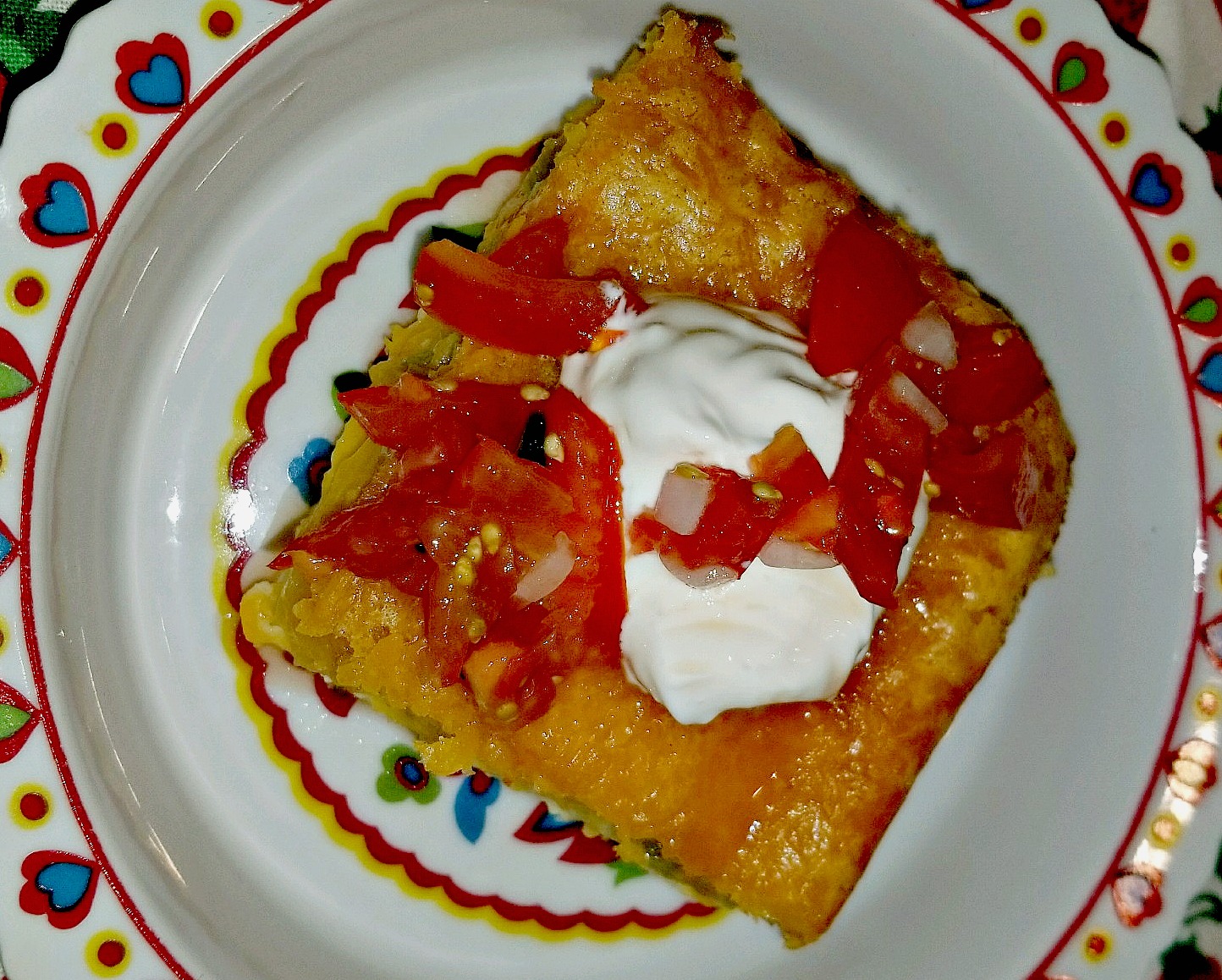 Gail's Chili Relleno Casserole
1 lg or 4 small cans of whole green chilies
1 lb.Monterrey jack cheese, shredded
1 lb. cheddar or Colby cheese, shredded
1/2 cup flour
1 cup milk
2 eggs, beaten
1 8oz. can of Herdez Salsa Casera (picante sauce)
Grease an 8 x 11 inch baking pan. Layer 1/3 of
chilies in the bottom of the dish by tearing open the
chilies and laying them flat in the pan. Follow with 1/3
of Monterey Jack and 1/3 cheddar. Repeat layer twice,
ending with cheddar on top.
In a medium bowl, blend flour, milk and eggs with a
hand mixer until smooth. Pour over cheese and chili
layers.
Bake uncovered at 300° for 40 minutes, or until hot
and bubbly. Top with picante sauce and bake 5 minutes
more. Remove from oven and let stand 5 – 10 minutes
to let cheese set up. Serves 6.